Hola! After two long years, SPBD Team held its annual team building event, this time at the beautiful Daku Resort in Savusavu from 19-21 August.
As SPBD has eight branches all over Fiji – Suva, Sigatoka, Lautoka, Rakiraki, Levuka, Taveuni, Labasa and Lautoka – it is important that we meet face-to-face at least once a year as a team. After meeting mainly virtually during COVID-19 lockdown, we know the human connection and interaction in a team environment is essential to thrive as an organisation.
The theme was 'Reconciliation – The key to a happier workplace'. Our facilitator was Jyoti Maharaj, Managing Director of Jody's, a former executive of Westpac and a judge of the SPBD Businesswoman of the Year awards. We organised ourselves into five teams Amarillo (Yellow), Azul (Blue), Negro (Black), Rojo (Red) and Verde (Green). Apart from the theme, our country of focus was Spain. The food, dress code, dance, song, quiz and language all had a Spanish flavour.
A big thanks to the leadership and guidance of General Manager and Director, Elrico Munoz and our five Team Captains (Amarillo's Ulamila Wakaniyasi, Azul's Ledua Volauca, Negro's Kunal Vikash, Rojo's Mere Radinimila and Verde's Vani Bogirua, who was also our Head of Logistics and put all the pieces together to make the programme exciting, fun, informative and a learning experience for everyone.
Included in the programme was the Reconciliation Dimensions and research on the brain chemicals – cortisol, oxytocin, dopamine, endorphin and serotonin. Now we are aware of CODES and how to react and manage our feelings and emotions accordingly.
One of the highlights was cooking as a team. The teams made breakfast, morning tea, lunch, afternoon, dinner and supper. The teams had to manage within a set budget, buy their own ingredients and cart them to Savusavu. Delicious dishes like Spanish bread, Spanish chicken caldereta, grilled eggplant, Spanish fruit salad with almond jelly, Spanish donut with surprise topping, BBQ chicken and sausage with romesco sauce, Lovo with Spanish salad and of course our Savusavu chicken curry to round off the international cuisine. The Masterchef competition was fierce while friendly and all the food was cooked with love!
Other activities were indoor games (imagine indoor tug of war!), socialisation exercises, best dressed male/female in Spanish outfits, best Spanish dance for a couple and quizzes to add variety and excitement to the programme. We formalised the SPBD policy on Child Protection and will implement this in our work and home environments as well as impart this knowledge to our members to practice within their communities. To ensure a holistic approach to the programme, there was a zumba session at 5.00am on Saturday and Sunday devotion at 6.00am – this was possible because lights were supposed to be out by 10.00pm!
As a Fiji board director of SPBD, it was a privilege to be a member of Team Azul. I sincerely thank Team SPBD for being committed to the vision and values of SPBD during COVID-19. We adapted our business and used other platforms like Survey Monkey, Viber and Zoom to communicate. Our loans were disbursed through e-wallets. We are grateful to Team SPBD for keeping in contact with our members to reassure them that SPBD is also concerned about their well-being including their families during the difficult times. Now that members are continuing with their businesses or rebuilding their foundation, SPBD stands ready to assist the members grow and improve their quality of life. We are confident that the Fiji economy is in growth mode and so is our SPBD business.
Adios y gracias!
-Lorraine Seeto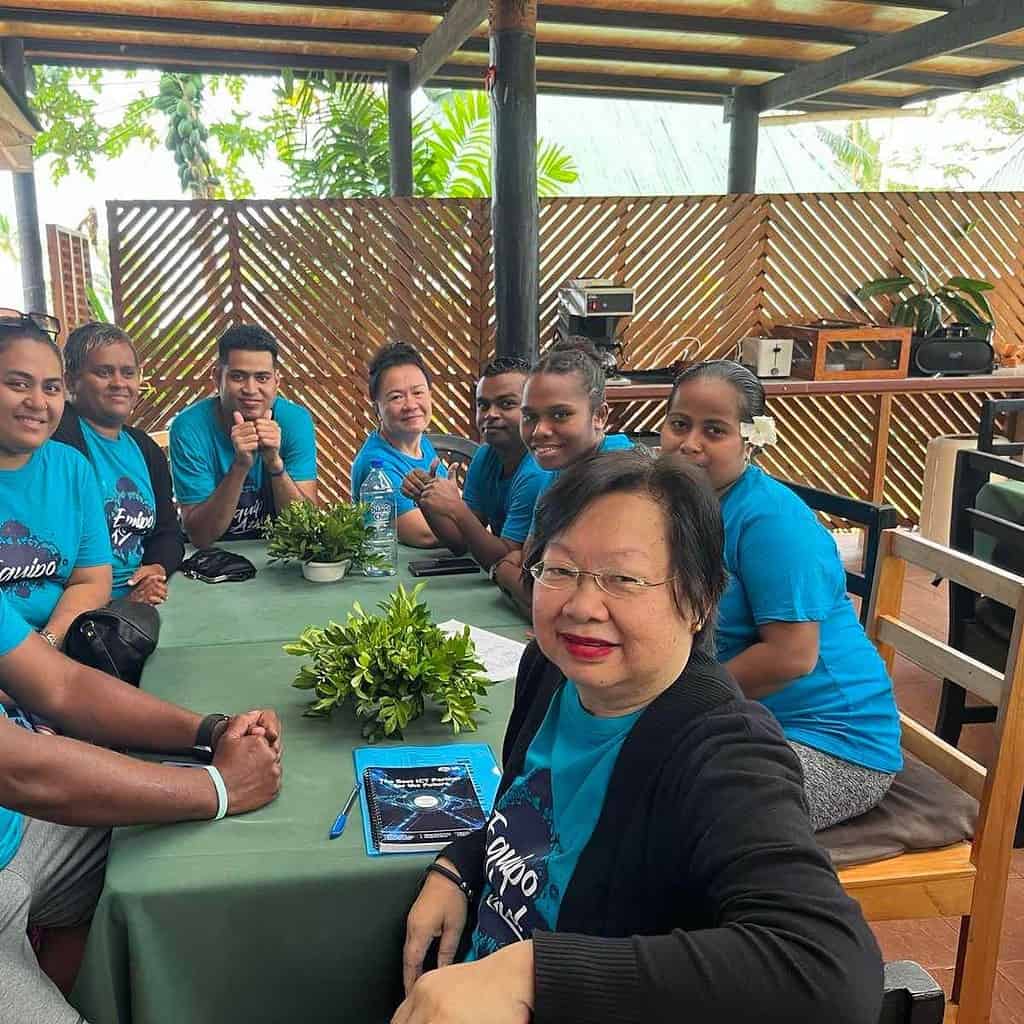 ---
SPBD Businesswomen of the Year awards
Back bigger and better this year
Work is underway to finalise nominations for the 2021 SPBD Businesswomen of the Year awards. Centre Managers have nominated centres and individuals for 10 categories.
"Centre Managers know which Centres and members diligently follow a timely agenda, cite the SPBD members' commitments, make loan repayments as due and have time to discuss business tips," says SPBD Director, Lorraine Seeto.
The nominations will now go to an inhouse committee for quality and completeness and the finalists selected. The panel of judges, which comprises of women with vast experience in banking, finance, telecommunication, media and business sectors, will interview the finalists face-to-face this year.
In previous years, the panel of judges travelled as far as Rabi. Last year, the judging was through Zoom and there were issues with connectivity and the technology posed problems. This year, the face-to-face judging will give the panel the opportunity to see the place of business and see how SPBD activities have impacted the community. The judges will see for themselves what is on the ground. The finalists will show you their home improvements, canteens and even plantations. This will enable the judges to have a better understanding of what our finalists encounter – their achievements including their challenges.
"Each year, the quality of the nominations improves a notch and the judging becomes more challenging. It is usually that special attention to detail that distinguishes the winner – her approach to her customers in terms of meeting all their needs or even exceeding them," says Seeto.
"We take this opportunity to wish all the finalists our best wishes. As you know, there can only be one winner in each category. To have made the finals is an excellent achievement in itself.
"To the potential applicants, we encourage you to engage with your SPBD Centre Managers to express your interest in vying for a particular category. The Centre Managers provide business tips to SPBD members during their weekly Centre meetings. This collaboration will assist the potential applicant to understand what is required to make the grade and work towards meeting that benchmark. When one member of a Centre wins an award, the whole Centre wins and shares in the celebration."
The SPBD Awards night will be held at the Vodafone Arena on 20 October 2022 from 6.00pm to 10.00pm. There will be stalls at the car park sponsored by Courts Sisters in Business in the morning selling handicraft and food.
This year, the categories are:
SPBD Businesswoman of the Year 2021
SME Businesswoman of the Year 2021
Centre Chief of the Year 2021
Centre Secretary of the Year 2021
Individual Saver of the Year 2021
Financial Education Facilitator of the Year 2021
Centre of the Year 2021
Centre Saver of the Year 2021
New Centre of the Year 2021
COVID-19 Business Resilience of the Year 2021
JOSEPHINE MCCOMBER
"When I make one design, it excites me because it's new. It makes me so happy. Everything is going well," says Josephine McComber, SPBD's Businesswoman of the Year 2020.
Since receiving the award last year, Josephine has made it her aim to upgrade her business venture by launching new products.
"During COVID, there was [not much sales] selling handicrafts. I then planted hybrid hibiscus flowers and sold them online on Facebook. It was selling like 'hotcakes' on there and that's how I got my business rolling."
Current endeavours
The Taveuni-based entrepreneur did not stop there. McComber says she is currently diversifying her product range by making printed fabric items and ribbon wreaths, which she displays at her outside market stall.
"Recently, I attended a three-day workshop on fabric printing in Labasa. As soon as I returned home, I got my fabrics, and I continued with it."
She says most Fijians prefer their clothing in rayon material. "With the rayon material, I [have] made sulus and even dresses with different designs. I make different designs to make people interested in my products."
Sales have been good. "In a day, three or four dresses are sold with three sulus. One dress is FJD35. If it's a white [fabric], I can blotch tie-dye it, which would cost around FJD55 to $60."
She started selling wreaths after spotting a gap in the market. "During that three-day workshop, I went to the [Labasa] market and saw ladies making wreaths using ribbons and they're getting good money. Nobody in Taveuni is doing that. I learned from them. And, as soon as I came home, I made ribbon wreaths too."
In taking on another SPBD loan of FJD7,000 this year, Josephine says she is able to focus on making her fabrics business thrive and in turn, complete her home renovations. "After two to three weeks doing fabrics, then I applied for another loan of FJD7,000… I thought about using the FJD7,000 loan to complete the extension of my house, but then I thought of my fabrics business. I had to make a tough decision. So I decided to do fabrics first. When this fabric business keeps on rolling then I'll do the extension of my house. So everything is going smoothly right now."
Not only has she maintained her business, Josephine also helped her Centre members with their small businesses. "Some of the members, especially those that do weaving, do not earn as much income for their products. So I told them, 'You weave, then bring it to me and I sell it at my handicraft shop.' Some of them make oil and I make soap out of it," she said.
"Another lady at my SPBD centre sells perfume. One day, she came to me and asked if she could sit at my mini market to sell her product because whenever my food [packs] run out, I close up the market and I' in the salon most of the time. The woman suggested, 'Why don't I sit at your market, sell your products and also sell my perfume? You don't have to pay me.' And, so I helped her and it's going well every day," she added.
Her mini market, on the other hand, has been a rest stop for bus travellers. "When the bus comes in the morning, I'll be there selling food because most of the buses that come from the north and the south leave early in the morning, around 4.00am. By the time it reaches Naqara, the people on the buses are really hungry and want to have breakfast.
"I make their tea and coffee and have them sit and eat comfortably inside my hair salon. By 8.30am, everybody's fed and all my food packs are gone."
Being a good mentor
"When I was awarded the SPBD Businesswoman of the Year, I would post about it [on social media] and women would find it encouraging, it really motivates not only the members of my Centre, it's also the ladies in other centres like in Nailotua. They come and ask me questions and I answer them," Josephine says.
She even convinced one Centre member to continue their business with SPBD despite family opposition. "One member wanted to leave [SPBD] because of her husband's advice. However, she stayed with SPBD, and managed to [buy] a car."
"Do not limit your challenges, try and challenge your limits," is a statement Josephine's advice to Centre members.
She says it is good to learn new things. "Some ladies would tell me, "Every workshop, we would see your face there". It's because… 'o au makutu' (or I'm always eager to do things)."
Her advice to women looking to join SPBD is "don't lose hope with whatever you do."
Whatever I earn in a day, I'd always thank the Almighty with my tithe, that's the most important thing. Everything you do, you do it with a good heart and everything will be perfect."
ELINA SIGADRODRO
This year, Elina Sigadrodro has been busy making sulus and coats for Methodist church ministers. "I made a design especially for them," Sigadrodro said of her new designs.
The SPBD Centre Secretary of the Year 2020 and SPBD's COVID-19 Business Resilience of the Year 2020 recipient, Sigadrodro says since wininng the award, "there have been little achievements yet a lot more challenges after the COVID-19 pandemic because I run a tailoring business.
"Using the small talents I have, I try to support the women members at my Centre, as well as those from other SPBD centres and the members of my church congregation."
Sigadrodro continues to service her loyal clientele.
"I can rely on my customers… I make all types of clothes like jaba (or traditional women's dress) and shirts… according to the pattern they want."
Last year, Sigadrodro talked of her hope to make and sell quilted items. But right now, she says she is doing patchwork by hand as the quilting machine is not available in Fiji and is "very costly".
"I'm looking for that [long-arm machine]. I've checked with local retail businesses and they don't have it. With my patchwork, I've made new designs. I make my own designs and I show them [to my customers]."
Sigadrodro says four new members "involved in catering [and] weaving mats" have joined SPBD's Valelevu Sisters In Action Centre.
Sigadrodro revealed that one of her Centre members, aged 70, now has thousands in savings from selling mats. "She buys the mat, makes the vakabati and sells it again. She's very old and has already earned herself FJD3,000 in savings, just from selling mats."
Sigadrodro supports her Valelevu Centre members by sharing her God-given talents, especially those who are in the first stages of their small business. "I would teach the women who are just starting their business on how to make products like earrings and rings which would cost FJD5 per piece so that they can earn an income from it.
"When you get money for [your] business, use it on business alone. And, learn to manage your needs from your wants," Sigadrodro advises.
Through her business, Sigadrodro has been able to support her children's education and renovate her house.
Sigadrodro is grateful for her 10 years with SPBD. "I believe I've been an SME for [many] years now, and it has enabled me to provide for a lot of things.
"Don't rely on somebody else," she says. "You can earn your own income by starting your own business."
Most importantly, she encourages women to learn how to sew because "it's a business that is very much in demand."
ROSELINE NISHA
The Centre Chief at the Lakena Centre, Roseline Nisha is quick to acknowledge that her success as an SPBD leader is the success of all Lakena members.
"Sometimes, the Centre Chief too fails to do something. When that happens, my Centre members and I would handle the challenge. If we don't know [what to do], we [would] all sit down and try to solve it. We have a lot of helpful members at our [Lakena] Centre," says the recipient of the SPBD Centre Chief of the Year 2020.
Nisha says since receiving the award, her business in jewellery making has been operating normally. "The COVID-19 pandemic was too tough for us. But now, it is okay."
In fact she has expanded her product range by making jewellery out of beads: "I make and sell necklaces, earrings, bracelets and the like," she said.
Nisha travels quite a distance to sell her products throughout the Rewa province. "I now have a stall at the Nausori market and I also sell [my products] in my village and the villages nearby like Verata, Kasavu and Buiduna settlement. I go around and sell [it] there."
SPBD Lakena Centre has welcomed two new members this year, said Nisha. "One runs a cake business, and the other one has a boutique in Nausori.
"Women who want to join SPBD must have their business registration done first," she says. "If you have a small business running, that's okay."
She advised: "It's very important to be faithful."